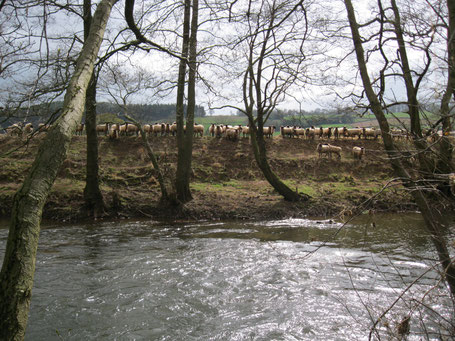 There are times when life doesn't go our way. We make plans, and unanticipated events unmake them. It can be as simple as a delayed train, or as devastating as sudden ill health. We are going along, with some idea at least of what shape our day - or life -  might take, but then everything unravels in the face of something we didn't expect.  We are left asking, 'Where am I? Where do I go now?'
The unexpected gets in the way. If it's a pleasant surprise we're happy to be diverted, but even then we might feel thrown. But when something painful, difficult or threatening crashes in, we can be shaken to the core, bewildered by the turn of events and left with no clear sense of our bearings. I remember sitting down on a London bus and looking up to see the notice by the door: 'NO WAY OUT'...not the sort of message you hope to receive when life feels uncertain!
There is another sense in which we sense something or someone stands in our way. We have a good intention, even one we sense comes as gift of the Spirit; but we also see an obstacle and it seems formidable. Perhaps it's about finding work that is meaningful and makes a difference, but the jobs don't seem to be there. Or perhaps we sense we have something to give but doubt that it will be valued by others. Or perhaps it is a persistent call that we sense to place our daily life more deeply in God but we can't seem to find the time or the means to pray.
Seeing the barrier on our mental map we might not even begin the journey. Or when we walk right up to it and see its size and hear its noise we might give up the task for hopeless. But what if the pull to make the journey continues to be strong? And what if this desire seems to come not just from us but from some inner place where God's Spirit dwells? Then we might be willing to go on walking trusting that in time we will arrive. But where will this arrival point be? It might be the place we imagined or somewhere entirely different and surprising. God knows. 
I recently went for a walk, having planned my route on a map showing all the footpaths. I knew where I wanted to get to, but what stood in the way was a busy dual carriageway. The map showed a footpath running up to its edge and another starting on the other side immediately opposite. There had to be an underpass or a bridge... There wasn't...
 I understood how Moses and the Egyptians must have felt when faced by the waters of the Red Sea. There are no zebra crossings on motorways. 
I might have turned back, but the lure of the destination was strong, and so I trudged along the road's noisy edge for a long mile, searching for a crossing point and finally – when almost at the point of giving up - reached a turning that took me to the other side.  I wasn't on the path I first thought of, but now new possibilities for the journey opened up for me. This, rather than the route I had imagined in the beginning, was now my path.
Jesus says, 'I am the Way'.  The Way moves on from where we are, and not from some other place. We don't know where in detail it will lead us, but it will lead us somewhere. The obstacles we perceive are not barriers to this way; in Jesus they become the Way. All that has happened to us is part of the Way. All that might happen in the future - wanted or not - will also takes its place within the Way. Our part is to pluck up our courage and take hold of our desire and walk: a Way has to be travelled.