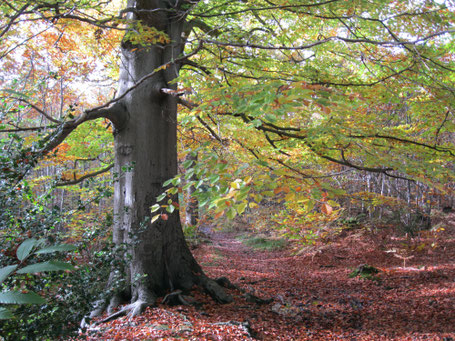 Whether we are seeking to grow in prayer, or become free of what we have come to recognise as life-diminishing ways of acting or thinking, or to know what it is God wants us to do, it is in letting go that we make room for God.  It is the Spirit that roots and grounds us in God, draws us into wholeness and guides us along the way that leads to life. If we try too hard, believing that it is only through the sheer force of our will and effort that change can happen, we leave little room for God. Everything is gift.
However 'letting go' is in itself a work, for our natural inclination tends towards keeping life in our minute control, depending entirely on our own resources rather than being open to another's help, and bringing about change by the strength of our will and endeavour. To go against this instinct for self-sufficiency and self-definition can feel daunting; yet we let go not into nothingness but to 'let God' be active in our lives. In doing so we find that we too are alive in a way we have never been before.
·         Put a stone in your hand to represent that which you desire to let go to God.
·         Place a candle or cross nearby to symbolize the place of letting go.
·         Use the reflection below may help you to identify what you want to put in God's hands:
We let go to God our regrets about the past – the choices we have made however we now feel about them, whatever has happened to us for good and for harm. God is in the place where we are, however we got there.
We let go to God our anxiety about the future. We cannot control what is in essence beyond our control – instead of torturing ourselves with fears that begin 'what if...' we let go to God who will always be alongside us in 'what is'.
We let go to God what hurts. True we cannot switch off our painful feelings; they flow into our lives, but if we do not cling to them they will flow from us again, carried in the stream of God's presence and care.
We let go to God our resentment. Even though the anger may not die down in our hearts we consent not to hold on to our need to get even; we give to God to heal what we cannot heal by ourselves
We let go to God our need to be good enough. God gives freely what we can never earn. We are valued, loved and believed in as we are.
We let go to God our desire for growth. It is God who continues to create us and who works to make us whole.
We let go to God the choices we face today. Though we do not know what to do, as we choose to listen, God will lead us along the unseen way.
We let go into God's working: We consent to be drawn this day into the stream of God's life: to become the activity of Love in that part of the world that is ours.
·         As you sense something you want to let go to let God, put down your stone by the candle or cross.
·      There may be feelings you need to share with God before you feel ready to let go: fears, hopes, doubts, desires or pains. You may sense you are not ready yet to let go and let God in this area of your life; if so, let go at whatever level you are able to today, with your ambivalent feelings and doubts.
·       You will probably find that on another day you will need to let go in this area all over again. Letting go is rarely a 'done deal'; it is a process where little by little we allow God to become the source of our life.